Cheeseburger Soup
We are thrilled that Wanda Sommers has graciously allowed us to share this recipe from her cookbook, The Old Cookstove. You can pick up your own copy of her book in our Kitchen Korner and enjoy many more family-friendly homestyle recipes!
Creamy and comforting, Cheeseburger Soup from The Old Cookstove makes a quick and delicious weeknight meal when paired with a side salad and our delicious Cheddar Garlic Biscuits.
Cheeseburger Soup
Ingredients:
1/2 lb. hamburger
3/4 c. chopped onions
3/4 c. chopped carrots
3/4 c. chopped celery
1 tsp. basil
1 tsp. parsley
4 Tbsp. butter, divided
2 c. chicken broth
4 c. diced potatoes
1/3 c. flour
8 oz. Troyer Simply Meltz Easy cheese
2 c. milk
3/4 tsp. salt
1/2 tsp. pepper
1/4 c. sour cream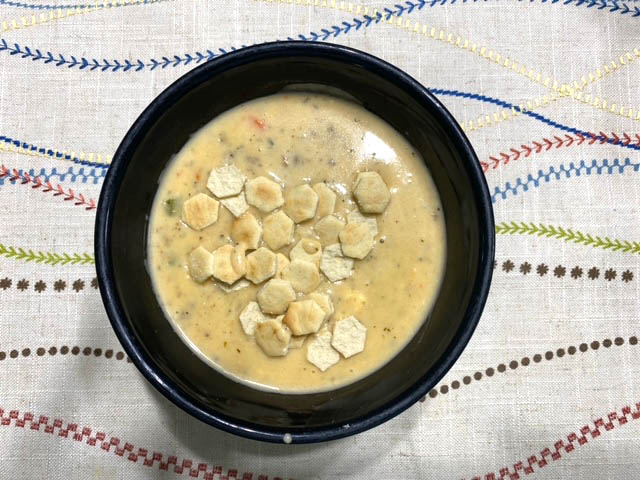 Directions:
Brown hamburger; set aside.
In same saucepan, saute onions, carrots, and celery with basil, parsley, and 1 tablespoon butter.
Add chicken broth, browned hamburger, and potatoes. Boil until tender.
Meanwhile, in skillet, melt 3 tablespoons butter. Add flour; cook and stir until bubbly. Add to soup; bring to a boil. Cook and stir for 2 minutes.
Reduce heat; add Meltz Easy cheese, milk, salt, and pepper. Cook and stir until cheese melts. Blend in sour cream.