Regular 6" Paring Knife, Black B4
Best-selling knife fits nicely in your hand and is the ideal weight for easily paring, slicing, and seeding fruits and vegetables.



Description
A Rada all-time best seller, the Regular Paring fits nicely in your hand and is the ideal weight for easily paring, slicing, and seeding fruits and vegetables. Perfect for deveining shrimp and venting pie dough too. Its size makes it an all-around wonderful paring knife.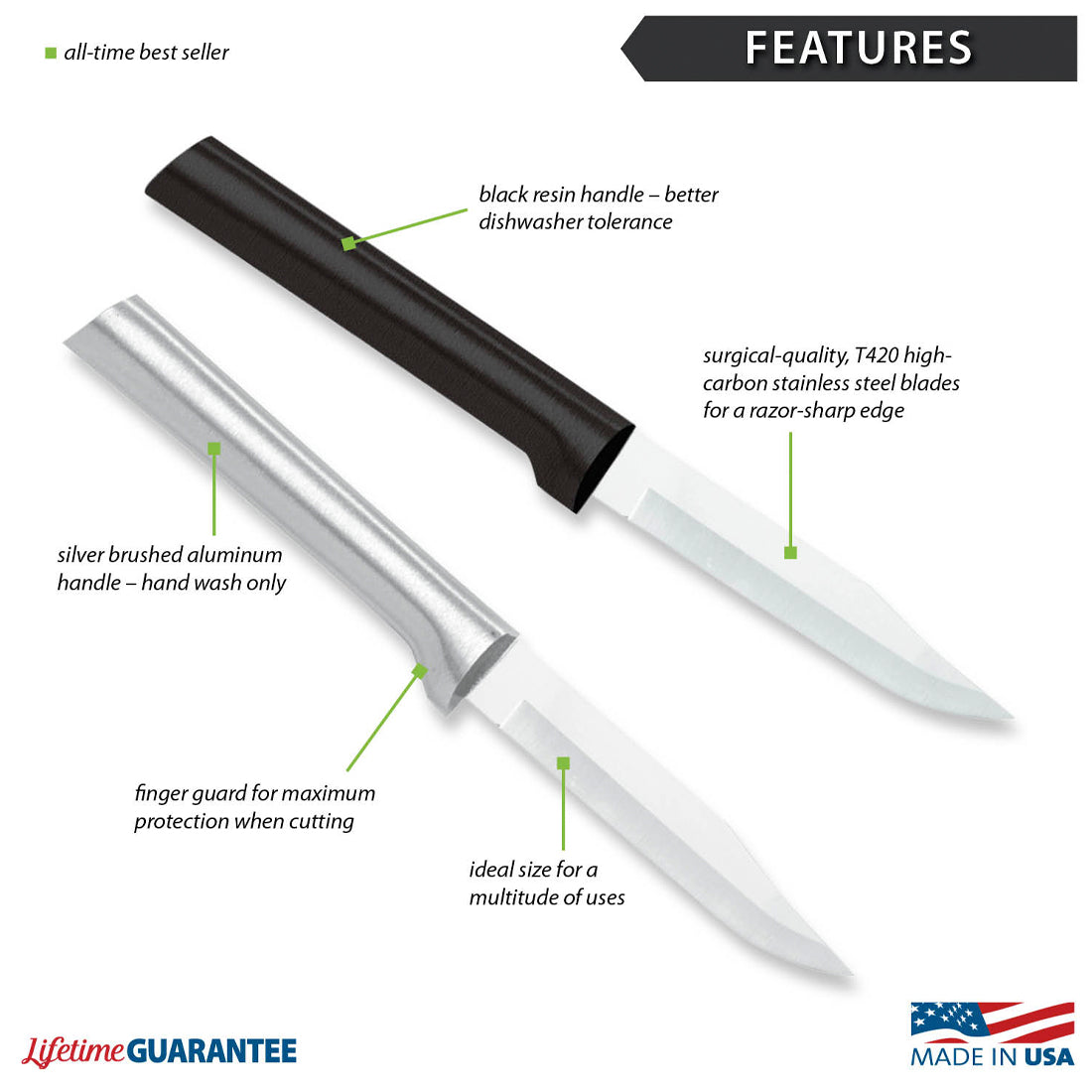 Rada meticulously hand sharpens super-hard surgical-grade T420 high-carbon stainless steel to a razor-sharp edge.
Knives are hollow ground to achieve and maintain a sharp edge that lasts. When sharpening is needed, it's an easy and inexpensive at-home process using our Quick Edge Knife Sharpener.
Available with a choice of silver satin aluminum handle or black resin handle.
Handles have a built-in finger guard to protect fingers while cutting.
Backed by our Lifetime Guarantee: Rada Mfg. Co. will replace any product manufactured by our company returned to us due to defects in material or workmanship.

The Extraordinary Value of The Rada Regular Paring Knife
DESCRIPTION
The Regular Paring Knife is a best seller, cherished by generations of cooks for its ideal size and multitude of uses. The non-serrated blade glides easily through food with smooth cuts. It is Rada Cutlery's best-selling knife; it's no coincidence that this handy kitchen tool is loved by cooks everywhere!
RECOMMENDED USES
One of the most-used knives in the house, the size of the Regular Paring Knife is ideal for nearly any type of food prep. Easily peel and cut fruit for cobblers, remove those eye-blistering seeds from jalapeños, and separate baby back ribs. Use it to slice shallots and garlic cloves and to chop dates too.
BLADE
To assure our customers get the best-slicing knives available, all Rada blades are crafted from surgical-quality, T420 high-carbon stainless steel then hollow ground to create a concave cutting edge, making our knives incredibly sharp with lifetime durability. Designed with frequent use in mind, non-serrated, hollow-ground blades can be easily resharpened to achieve a like-new blade again and again. For easy at-home sharpening of non-serrated blades, check out Rada's Quick Edge Knife Sharpener.
HANDLE
This knife has two handle options. The silver handle is made from permanently cast silver brushed aluminum and has a satin finish. The black handle is constructed from black stainless steel resin. Both are incredibly durable and fit beautifully into any kitchen décor.
BLADE LENGTH 2½"
TOTAL LENGTH 6⅛"
BLADE MATERIAL Surgical-Quality,
T420 High-Carbon Stainless Steel
BLACK HANDLE MATERIAL Molded Resin
SILVER HANDLE MATERIAL Cast Aluminum
COUNTRY OF PRODUCTION USA